規格:兩件套裝
重量:115克
尺寸(長x闊x高):240x112x19 毫米
規格:五爪經絡梳
重量:40克
尺寸(長x闊x高):95x54x19 毫米
規格:扁平木梳
重量:70克
尺寸(長x闊x高):240x58x13 毫米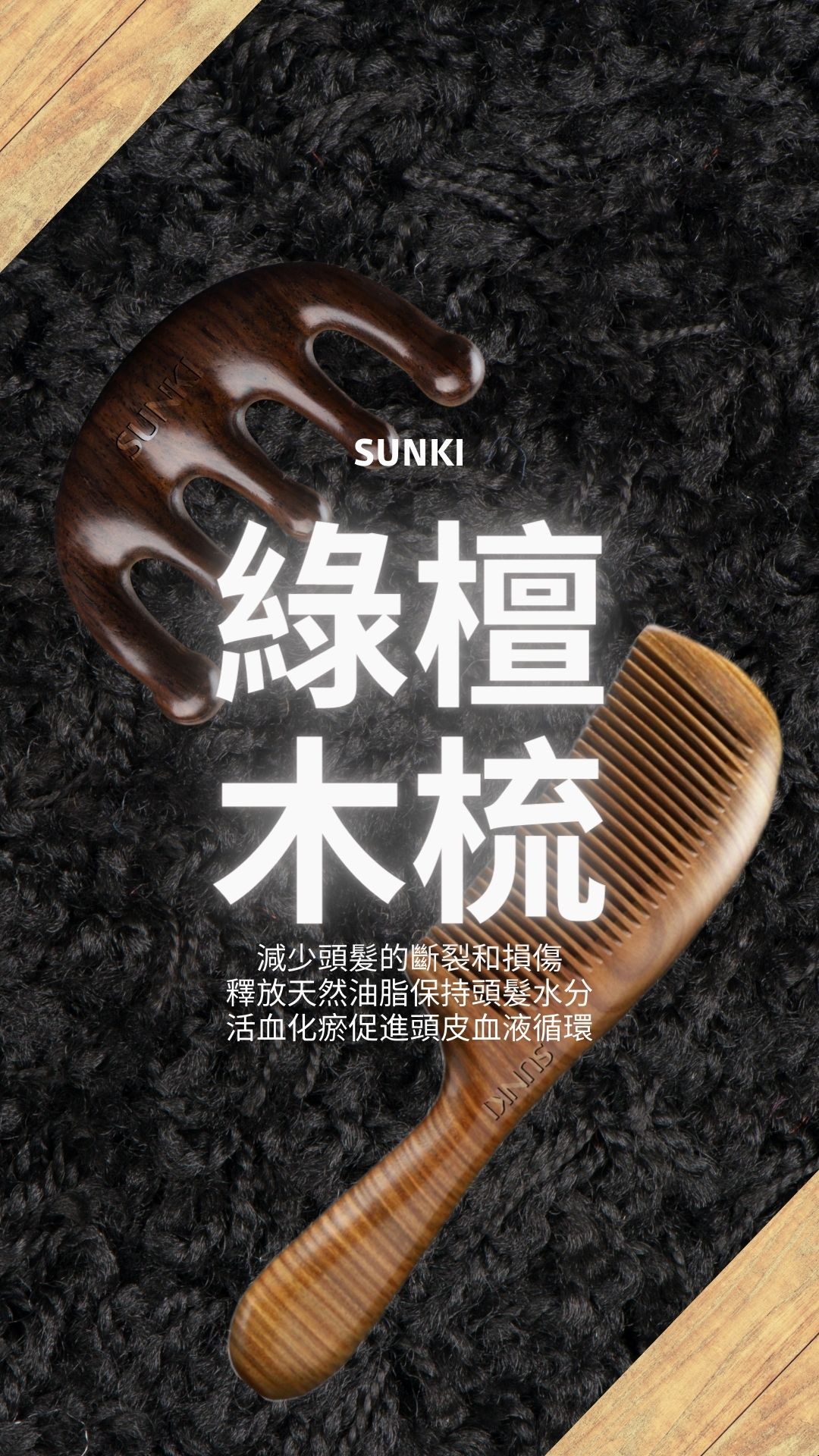 套裝含:
使用綠檀木製造的梳對頭髮有許多好處。首先,它可以幫助減少頭髮的斷裂和損傷。相比塑料或金屬梳子,綠檀木梳的齒間更加柔和,不會產生靜電,避免頭髮遭受過度的拉扯和損傷。
其次,綠檀木梳還能釋放天然的油脂,有助於保持頭髮的水分,令頭髮更有光澤和彈性。綠檀木的材質能夠在梳理過程中吸收頭皮的油脂,並將其均勻地分佈到頭髮的每個部位。這樣不僅能夠滋養頭髮,還能避免頭皮油脂分泌不均勻而導致頭皮屑和頭髮乾燥的問題。
此外,綠檀木梳還具有活血化瘀的功效,可以促進頭皮的血液循環。綠檀木梳的齒間可以輕輕地按摩頭皮,促進血液循環,增強頭髮的生長和健康。同時,綠檀木梳的香氣能夠幫助舒緩情緒,放鬆身心,帶來一種舒適和愉悅的感覺。
綜上所述,綠檀木製造的梳不僅可以改善頭髮的健康狀態,還能帶來許多美好的生活體驗。如果您正在尋找一種對頭髮溫和且有益的梳子,綠檀木梳是一個不錯的選擇。
材料:綠檀木
Specifications: Comb Set
Weight: 115g
Dimensions (LxWxH): 240x112x19 mm
Specifications: Five Finger Comb
Weight: 40g
Dimensions (LxWxH): 95x54x19 mm
Specifications: Flat Comb
Weight: 70g
Dimensions (LxWxH): 240x58x13 mm
Set contains:
One flat comb
One five finger comb
Green sandalwood combs have several benefits for hair. First, they help to reduce hair breakage and damage. This is because the smooth surface of the comb does not cause friction on the hair, which can lead to breakage and split ends.
Secondly, the comb helps to release natural oils in the scalp, which helps to moisturize the hair. This is particularly beneficial for people with dry or brittle hair, as it helps to prevent further damage.
Lastly, using a green sandalwood comb can help to promote healthy blood circulation in the scalp. This is due to the traditional Chinese belief that using a wooden comb on the scalp can stimulate the meridians and improve blood flow to the area. This increased blood flow can lead to healthier hair growth and a healthier scalp overall.
Material: Green Sandalwood